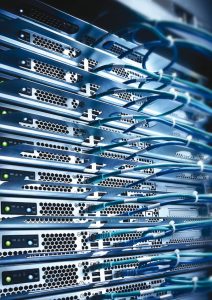 SIP (Session Initiated Protocol) Trunking and SIP Channels, work in much the same way as ISDN channels but run over the internet instead. You still require a phone system but channels start at just a third of the ISDN price, plus there are many extra features available.
Many companies often question what SIP trunking actually is, so let's use a 20-user site as an example:
A fixed phone system such as an NEC SV8100 will use ISDN digital lines provided by BT where a company will buy, for example, 8 channels to share between all the staff meaning that only 8 people can be on a call at one time (which is normally enough) – The cost would be about 8 x £12.50.
A VoIP system is where the phone itself is licensed and hosted over the broadband and therefore every single phone is effectively a channel – meaning, in this case, the company would need 20 licenses – the cost would be about 20 x £9.99.
SIP trunking is a cross between both, where you buy channels but these channels are hosted over our VoIP network. This means you use an ISDN fixed phone system but it plugs into the broadband instead of the ISDN lines, resulting in huge savings as you just need 8 channels for the 20 staff – the cost would be about 8 x £5 and therefore the cheapest option by far!
Benefits of SIP Trunking
SIP Trunking has many business benefits; it can reduce business costs, increase the resilience of your communication set-up and is easy to manage – it also fits with other technologies but the main advantage is that you can take your business telephone number with you no matter where you are.
Below are some of the benefits of SIP trunking:
Future proofing is easy – it can grow as your business grows
Economic network costs – to run and set up
Managing the system is very simple
Able to take your business telephone number with you
Site Survey
With your SIP Trunking solution, we will carry out a site survey to understand your data and network availability. It could mean that you only need a slight upgrade to your existing system but we will never recommend a product or service that doesn't 100% suit your needs.